History
---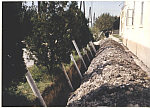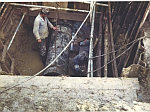 ---
The first meters of the up-to-date water-conduit were set in Horgoš in 1966/97. The firm Tisa Waterworks Ltd. is registered on 23. March 1968. For the almost four decades of successful work the firm of water supply and hydro-construction succeeded in covering over 250 km of water-conduit system in 10 settlements and in 5 local communities and it also succeeded in the supply with drinking water of European quality 11300 consumers.

Beside the distribution of water to households, industrial and other consumers, drainage and purification waste waters, as well as repairing and checking the water gages, our company employed with the constructions of hydro-building objects.

The Hydro-bilding constructed 36 complete water-conduits together with the home attachments, 35.000 ha of irrigation plant and over 1300 km pipeline for water-conduit and sewerage system. We carry out special works to decrease underground water and also pushing in pipes under roads end tracks 200 mm–2500 mm in diameter. Along with projecting, engineering and checking while constructing, the Tisa Waterworks Ltd. gives information help and on every level.

The Tisa Waterworks Ltd. complements its rich and various activities by producing prefabricated concrete elements for the hydro-construction objects: AB manhole 1000 mm and 1500 mm in diameter, production of concrete pipes and other architectural elements to order.